Samochodící autíčko RIRICAR s PU koly Oranžové
Měkké PU kolečka
Nepotřebuje pedály, baterie a motor
Funguje otáčením volantu doprava / doleva
Vhodné pro interiér i exteriér
Nepoškozuje podlahu
Zcela tichá jízda
Původní cena
1 766 Kč
Akční cena
1 457 Kč
Doba doručení: 2-3 pracovní dny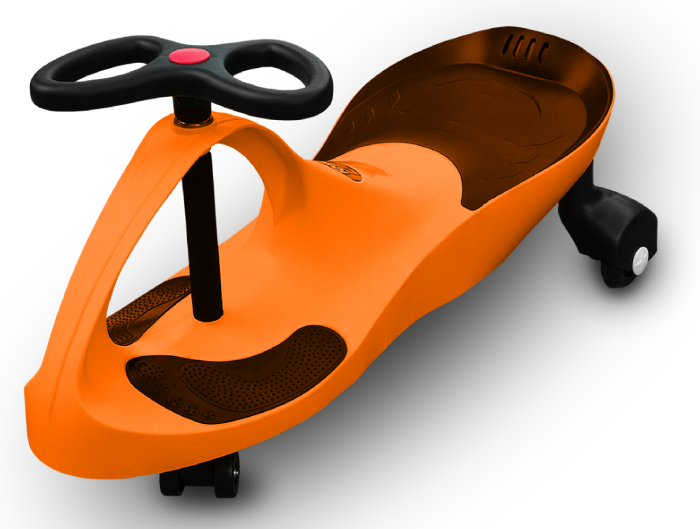 Klikněte na obrázek pro zvětšení
Přinášíme na český trh Riricar - autíčko, které získalo již řadu ocenění ve světě za revoluční pohon a skvělý design.
Riricar nepotřebuje pedály, baterii ani jiný zdroj pohonu, a přece jde.
Riricar je revoluční autíčko pro malé i dospělé - od 3 do 103 let! Riricar je téměř mechanický zázrak, který využívá nevyčerpatelné zdroje - setrvačnost, odstředivou sílu, gravitaci a tření. Když se k tomu přidá zdánlivě nevyčerpatelná energie dítěte, Riricar jde vlastně nekonečně dlouho - tak dlouho, jak vás to baví. Vše co potřebujete pro jízdu na autíčku Riricar jste vy sami a rovný povrch. Riricar má nosnost až 105 kg a uveze tedy bez problémů i dospělého. Certifikované je pro děti již od 3 let.
Často kladené otázky

1. Pro jaký věk dítěte je vhodný Riricar?
Doporučený věk jsou 3 roky. Nosnost autíčka je až 105 kg.
2. Mohou děti mladší 3 let používat Riricar?
Samozřejmě pod dozorem dospělé osoby! Záleží to jen na jejich pohybových schopnostech.
3. Je Riricar pro děti bezpečný?
Ano. Díky zadním kolečkům je velmi stabilní. Riricar je vyroben z vysoce kvalitního plastu. Riricar splňuje všechny potřebné testy pro evropský trh.
4. Proč se malé přední kolečka nedotýkají země během jízdy?
Tyto kolečka napomáhají při stabilitě autíčka. Při příliš prudkém otáčení může autíčko o ně opřít a zabrzdit.
5. Je Riricar vhodný i jako odrážedlo?
ANO. Je stabilní a snadno ovladatelné. Navíc se dá na něm jezdit i bez odrážení. Dítě si může vybrat způsob ježdění.
6. Na jakých površích Riricar funguje?
Riricar funguje nejlépe při použití na tvrdé, hladké rovné povrchy, doma, nebo venku, včetně betonu, asfaltu nebo zpevněné cesty a dalších volných ploch.
7. Vztahuje se na Riricar záruka?
ANO! Na zboží se vztahuje zákonem stanovená záruční doba 2 roky.
8. Důvody proč dítěti koupit Riricar:
Riricar je hračka, se kterou se děti hrají každý den.
Umožňuje dětem řídit a ovlivňovat autíčko jejich vlastní činností.
Orginální dárek, který potěší celou rodinu.
More Information

| | |
| --- | --- |
| Rozměry - výška (cm) | 42 |
| Rozměry - šířka (cm) | 33 |
| Rozměry - délka (cm) | 78 |
| Nosnost: max | 105 |
| Max. testovaná nosnost | 105 |
| Typ kol | Měkké PU kola |
| Šířka sedadla (cm) | 28 |
| Manuál | Ano |
| Průměr kola (cm) | 8 |
| Dárkové balení | Ne |
Poznámka: Technické specifikace se mohou změnit bez výslovného upozornění. Obrázky mají pouze informativní charakter. Běžná cena znamená výrobcem/dodavatelem doporučená koncová cena.