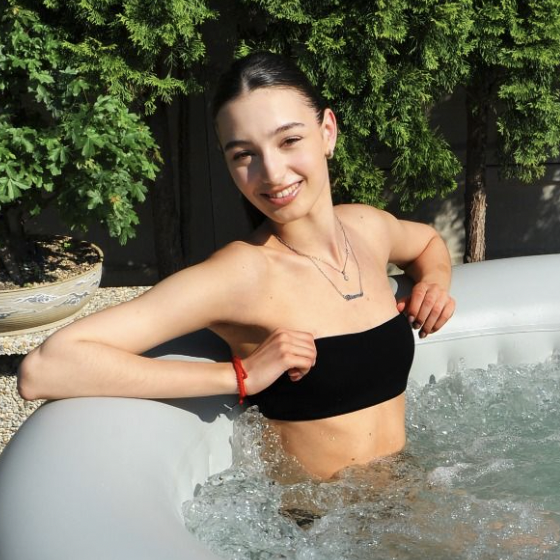 Užijte si svůj dvůr nebo zahradu od jara až do podzimu. Mobilní nafukovací vířivku můžete umístit téměř kdekoli. Dokáže nahradit bazén i hydromasážní vanu. Nafukovací vířivky u nás koupíte za bezkonkurenční ceny a oceníte také jejich mobilitu.
Na podzim můžete vířivku přemístit například do garáže a používat ji tam nebo si v zimní zahradě vytvořit vlastní wellness centrum. Představivosti se meze nekladou. Vířivky BeneoSpa mají nafukovací a zároveň velmi odolnou konstrukci. Snadno se instalují a jsou rychlé, protože se samy nafouknou do pár minut. Vodu pak jednoduše napustíte zahradní hadicí.
K vířivce si můžete dokoupit i potřebné příslušenství pro údržbu a různé doplňkové příslušenství jako např. držáky na sklenice, opěrka hlavy a mnoho dalšího. Stačí si vybrat program dle vlastních představ a relaxovat v nafukovací vířivce.
Efekt tryskové masáže ve vířivce v kombinaci s terapeutickými vlastnostmi horké vody je momentem, který nechcete, aby skončil. Je to opravdu příjemná věc. Naše vířivka je skvělým místem, ať už jste sami nebo na návštěvě, a v neposlední řadě je to ideální místo k odpočinku a relaxaci s rodinou. Jakmile začnete vířivku používat, zjistíte, že nejlepším výsledkem jejich používání je dokonalá relaxace a výborné vyčištění hlavy od zbytečných myšlenek.
Vezměte si například dovolenou na svém dvoře s rodinou – výborně se sblížíte. Budete lépe spát, budete se cítit lépe a ano, ukázalo se, že vířivky také oživují pozitivní myšlení, které se někdy ztrácí ve spěchu dnešního životního stylu.
Vířivka léčí tělo, mysl a ducha. Při každém použití vířivky dochází k rychlému přechodu ze stresu do stavu klidné blaženosti. Vyberte si z naší široké nabídky.